Enhance Your Spaces with Custom Perforated Metal Panels
At Roy Manufacturing, we specialize in designing and manufacturing high-quality perforated materials to transform your spaces into functional works of art. With our expertise and state-of-the-art manufacturing capabilities, we bring your creative vision to life, delivering unparalleled quality and precision.
What Are Custom Perforated Metal Panels?
Custom perforated metal panels are versatile architectural elements that combine functionality and aesthetics. These panels are created by punching holes in metal sheets, resulting in intricate patterns, designs, or logos. The perforations can vary in shape, size, and density, allowing for an endless array of possibilities to suit your specific project requirements.
Endless Design Possibilities
At Roy Manufacturing, we understand that every project is unique. Our team of experienced designers and engineers collaborates closely with you to understand your vision and translate it into perforated products that exceed your expectations. Whether you're looking for a contemporary, minimalist design or an intricate pattern inspired by nature, we have the expertise to bring your ideas to life.
Applications of Custom Perforated Metal Panels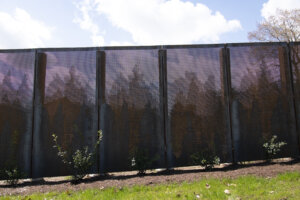 Custom perforated metal panels offer a wide range of applications across various industries and settings. Here are just a few examples of how our panels can enhance your spaces:
Architectural Facades: Make a bold statement and enhance the exterior of your building with custom panels that combine aesthetic appeal with functionality. These panels can be used as sunshades, privacy screens, or decorative cladding to add depth and texture to any architectural design.
Interior Design: Create visually stunning interior spaces with custom panels. From room dividers and decorative ceilings to feature walls and stair railings, our panels can elevate the ambiance of any setting while providing unique lighting and airflow opportunities.
Furniture and Product Design: Stand out from the crowd with custom panels incorporated into furniture and product designs. From office desks and retail displays to lighting fixtures and decorative partitions, our panels add a touch of sophistication and modernity to any piece.
Acoustic Solutions: Improve your spaces' acoustic quality without compromising aesthetics. Our custom panels can be designed to optimize sound absorption or diffusion, making them ideal for auditoriums, conference rooms, music studios, and other sound-sensitive environments.
Why Choose Roy Manufacturing?
Quality Craftsmanship: With a commitment to excellence, we pride ourselves on delivering custom perforated metal panels of the highest quality. Each panel is meticulously crafted using premium materials and cutting-edge manufacturing techniques to ensure durability and precision.
Collaborative Approach: We believe in the power of collaboration. Our team works closely with you throughout the entire process, from design conception to final installation, ensuring that your vision is fully realized and your expectations are exceeded.
Customization and Flexibility: At Roy Manufacturing, we understand that customization is key. We offer a wide range of perforation patterns, metal types, finishes, and panel sizes to suit your specific project requirements. Our team is dedicated to bringing your unique ideas to life.
Timely Delivery: We value your time and understand the importance of meeting project deadlines. Our streamlined production process allows us to deliver custom perforated metal panels within agreed-upon timelines without compromising on quality.
Contact Us Today for Custom Perforated Metal Panels
Are you ready to elevate your spaces with custom perforated metal panels? Contact Roy Manufacturing today to discuss your project requirements. Our team of experts is here to guide you through the design process, provide personalized recommendations, and provide a detailed quote tailored to your needs.
With Roy Manufacturing, you can trust your project is in capable hands. We have a proven track record of successful installations and satisfied clients across various industries. Our dedication to quality, craftsmanship, and customer satisfaction sets us apart as a leader in the perforated materials industry.