Decorative Perforated Sheet Metal: Where Aesthetics Meet Functionality
At Roy Manufacturing, we specialize in metals and materials perforation, fabrication, and assembly services for a wide range of industries. Among our diverse offerings, decorative perforated sheet metal is a standout product that has garnered immense popularity among product designers and architects.
Decorative perforated sheet metal undergoes a meticulous process of puncturing or stamping a pattern of holes into its surface. These holes can come in various shapes, sizes, and configurations, resulting in a porous sheet metal surface. Roy Manufacturing is well-versed in working with materials like steel, aluminum, stainless steel, and other alloys to create exquisite perforated metal sheets.
Why choose decorative perforated sheet metal?
Product designers and architects are drawn to decorative perforated sheet metal due to its unique blend of aesthetic appeal, functionality, and versatility. The pattern of holes in perforated metals offers a plethora of creative design opportunities while also serving practical purposes such as:
Airflow: Perforated metals facilitate ventilation systems, allowing air to flow freely while maintaining structural integrity.
Light Diffusion: With proper hole configurations, perforated metal sheets can disperse light in fascinating ways, creating captivating visual effects.
Sound Absorption: In spaces like auditoriums and office settings, perforated metal panels absorb sound waves, improving acoustics and reducing echo.
Visibility: Perforated metal screens offer visibility while maintaining a barrier, making them ideal for security and safety applications.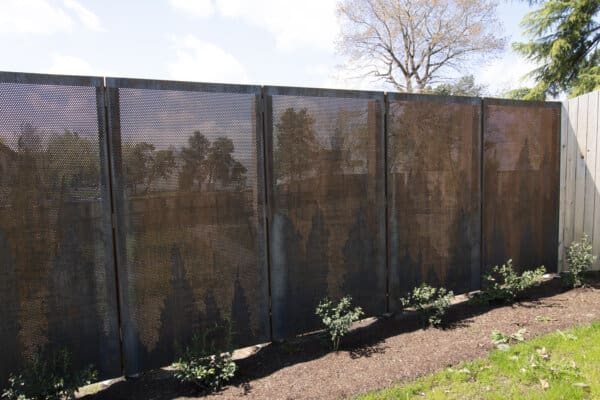 Advantages in Industrial Design and Architecture:
The advantages of using decorative perforated sheet metal in industrial design and architecture are numerous and include:
Enhanced Aesthetics: Adding texture and visual interest to structures or products, perforated metals become an attractive design element.
Functionality: Serving multiple functions such as decorative screens, acoustic panels, and façade cladding, perforated metals are both visually appealing and practical.
Structural Integrity: Despite having holes, perforated metals maintain their strength, ensuring durability and resilience in various environmental conditions.
Customization Options: Roy Manufacturing can tailor perforated metals to meet specific design requirements, offering flexibility in hole size, shape, spacing, and overall sheet dimensions.
Applications of Decorative Perforated Sheet Metal:
Decorative perforated sheet metal from Roy Manufacturing has a myriad of applications across diverse industries, seamlessly combining aesthetic appeal with functional excellence. In architecture and exterior/interior design, these intricately crafted metal sheets elevate building façades into captivating works of art, imbuing structures with texture and visual interest. They serve as decorative façades, sunscreens, and cladding solutions, empowering architects to unleash their creativity and design stunning exteriors that stand out in any urban landscape.
Perforated metal extends its versatility beyond architectural applications, encompassing a wide range of standalone elements that combine beauty with functionality. Decorated perforated sheet metal serves as an elegant and practical solution for various purposes, including fences and area dividers, gazebo shade screens, signage, and sophisticated artwork.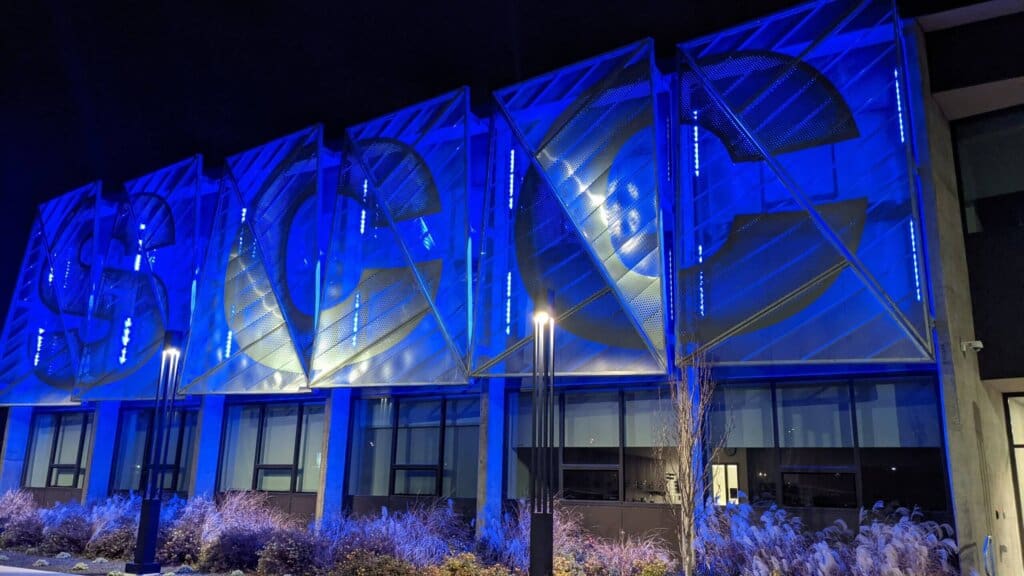 In the realm of outdoor spaces, perforated metal fences and dividers not only delineate boundaries but also add a touch of charm to landscapes. Their artistic patterns and play of light create an inviting ambiance while maintaining privacy and security.
Gazebo shade screens crafted from perforated metal offer an aesthetically pleasing shade solution for outdoor seating areas and recreational spaces. They create an atmosphere of tranquility while protecting individuals from harsh sunlight, making them ideal for leisurely gatherings and relaxation.
Moreover, perforated metal finds application in signage, enhancing the visibility and visual appeal of information displays and wayfinding elements. Its distinctive patterns lend a unique character to signage, leaving a lasting impression on viewers.
Why Choose Roy Manufacturing?
Roy Manufacturing has been in the perforation production business for over 65 years. Founded by Roy O. Young, our long history of producing perforated products from our facilities in Portland, Oregon, showcases our commitment to quality workmanship and superior service. Our company philosophy revolves around delivering products on time and to specification.
Our Expertise:
We work with a variety of materials, including stainless steel, aluminum, brass, copper, and more. Our team of skilled employees provides exceptional customer service, offering same-day quotes and delivery within five days from the receipt of an order.
Custom Solutions:
Roy Manufacturing is equipped to handle custom perforation projects tailored to your specific needs. With four buildings housing eight CNC-controlled turret punch presses, ranging from 30-ton to 50-ton punching capacity, along with pre-production and post-production equipment, we have the capability to bring your vision to life.
Contact us today to get started!
At Roy Manufacturing, our decorative perforated sheet metal products offer unmatched aesthetic appeal, functionality, and versatility. Whether you are an architect looking to add an eye-catching element to a building façade or a product designer seeking innovative solutions, perforated materials from Roy Manufacturing have got you covered. With our extensive experience, commitment to quality, and dedication to customer satisfaction, we are the perfect partner for all your decorative metal sheet metal needs. Get in touch with us today, and let's bring your creative visions to reality!