Roy Manufacturing: Your Premier Source for Infill Panels for Railings
At Roy Manufacturing, we are proud to be a trusted provider of high-quality perforated metal products, including infill panels for railings. As a leading perforated metal manufacturer based in Portland, Oregon, we have a long-standing reputation for delivering superior craftsmanship and exceptional service to our valued customers.
Enhancing Safety and Aesthetics with Infill Panels for Railings
Infill panels play a vital role in railing systems, providing both safety and aesthetic benefits. They serve as the intermediate barriers between rail posts, preventing accidental falls and ensuring the security of elevated spaces. Additionally, infill panels contribute to the overall visual appeal and architectural character of a project, making them an essential element in railing design.
Customized Perforated Metal Solutions
At Roy Manufacturing, we understand that every project is unique, and infill panels need to meet specific requirements. With our state-of-the-art capabilities and extensive experience, we offer customized perforated metal solutions to fulfill your design vision. Our skilled team works closely with you to determine the ideal hole pattern, material, and finish that aligns with your project's needs.
See for yourself! Learn about the infill panels we created for a local housing project: Hazel Heights Apartments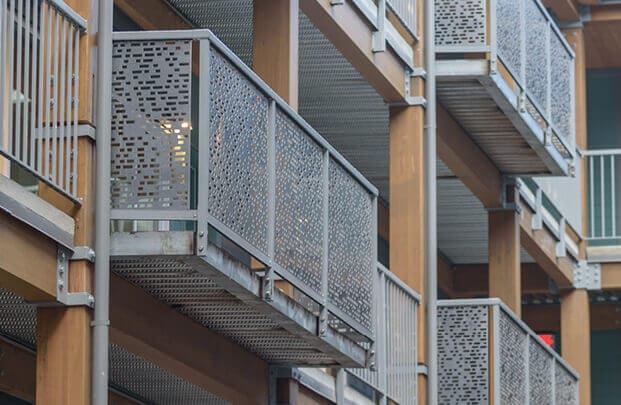 Wide Range of Materials and Designs
We offer a wide selection of materials for infill panels for railings, ensuring durability and longevity. Choose from our premium materials, including stainless steel, aluminum, mild steel, copper, and more, to suit your project's environmental conditions and aesthetic preferences.
In addition to material selection, we provide an array of captivating designs and hole patterns for infill panels. From classic round perforations to intricate custom perforations, our perforated metal expertise allows us to create unique patterns that enhance the visual appeal of your railing system. We collaborate closely with you to transform your design concepts into stunning reality.
Uncompromising Quality and Craftsmanship
At Roy Manufacturing, we prioritize quality in every aspect of our manufacturing process. Our team of skilled artisans combines traditional craftsmanship with advanced technologies to produce infill panels of the highest standards. With attention to detail and rigorous quality control measures, we ensure that our products meet or exceed your expectations.
Collaborative Partnership and Superior Customer Service
At Roy Manufacturing, we believe in fostering collaborative partnerships with our customers. We are committed to providing exceptional customer service throughout your entire project journey. From initial consultation to final delivery, our knowledgeable team is available to assist you at every step, offering expert guidance, rapid quotes, and timely support.
Experience the Roy Manufacturing Difference
When you choose Roy Manufacturing for your infill panel needs, you gain access to unrivaled expertise, superior craftsmanship, and outstanding customer service. Our dedication to delivering on-spec and on-time products sets us apart as an industry leader. Trust us to provide you with top-quality infill panels that enhance the safety and aesthetics of your railing systems.
Contact Us Today
Ready to elevate your railing design with premium infill panels from Roy Manufacturing? Contact us today to discuss your project requirements, receive a personalized quote, or explore our wide range of perforated metal solutions. We look forward to partnering with you to bring your vision to life and deliver unparalleled quality for your infill panel needs.